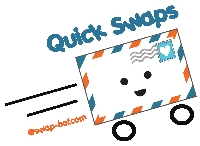 I swap with Swap-bot!
Here is what my partner found in their package:
This is what I found in mine:
Are those socks AMAZING or what? I can't wait to wear them. The Post Its are coming to work with me - no more plain boring notes stuck to my desk. The stamp says 'laugh' - I should bring that to work too. ;) I may even share the beads with my daughter. It was such a fun package to receive. What a sweet partner!