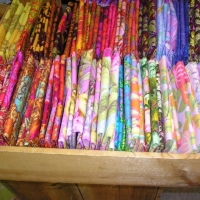 I swap with Swap-bot!
I think I truly hit the jackpot on this one. My swap partner sent beautiful fabrics, each one perfect for me in some way, along with a delicately woven lace bookmark in my favorite color.
But back to the fabric. Those jungle prints are AMAZING! I'm not a quilter, but I'm encouraging myself to make a mini quilt with them. I have some carved giraffes and other jungle animals in my bedroom that would be so enhanced with something like that displayed on the wall above them. Wish me luck!